会社案内
Greetings from Mr. Katsunori YOSHINO, Orson Company Limited
Orson Company Limited manufactures processed food products such as squid, scallops, cheese, and salmon flakes in both our Sapporo and Eniwa plants.
We carry out thorough hygienic management in our plants. This is done following the HACCP <Hazard Analysis and Critical Control Point> system.
The Eniwa plant, in particular, has been authorized as, "Seafood Processing Plant for Exporting to the USA" by the Japanese Ministry of Health, Labor and Welfare.
We stringently test our products for taste and quality from procurement through to the finished product. We strive to produce the best product for our customers.
We want to use the natural beauty of Hokkaido's environment to help market our products.
We want to introduce the quality and freshness of Hokkaido products to new markets all over Japan. We hope to make customers in other areas of Japan as happy as we have made our Hokkaido customers over the years.
The Origin of our Company Name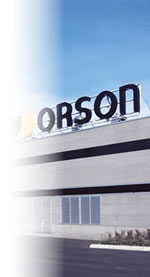 Orson Co.,Ltd originally started as Daiichi Foods Co.,Ltd in 1962. In addition to our main business manufacturing gourmet squid snack foods, year byyear we branched out with new octopus, scallop, and cheese products. Our supply of ingredients, of courseprimarily from season near Hokkaido has gradually spread to include sources worldwide, and we continued to internationalize our business by sendingtechnical advisors and exchange personnel to our contracted factories overseas.
In the meanwhile, a surge in growth of household products such as salmon flakes and prepared side dishes led to the registration of the Orson brand trademark, with the company name being officially changed to Orson Co.,Ltd in 1999.
The name `Orson`originates from ancient Greek word meaning `orthdox`. Our heat and leaf logo symbolizes the balance between man and nature.
Orson delivers food quality you can trust, through a realiable production envieronment.
Developing safe and health food products starts with supply of ingredients. They key to maintaining our quality ingredients is sending our own technical staff to the source, no matter where in the would it is located,and inspecting all aspects of the product.
Our entire manufacturing process is based aroundHACCP(Hazard Analysis Critial Control Points)food safety operation models. While maintaining thorough hygiene management, we take advantage ofthe features of each factory and make use of our ownspecialized technologies throughout the product development process.
Making use of environmentally friendly materials and proprietary specifications, our packeging process is designed to enhance the shelf life of our products whileallowing greater consumer convenience and cofidence.
From Hokkaido to the World
The 21st Century has led to many new ways of thinking about the relationship between humanity andnature. Food manufacturers, who are closely interwined with the environment, are coming to playa more and more important role in society.
Our goal is to continuously produce new and innovative food products, making use of the great nature bounty that Hokkaido provides. At the sametime, we will continue to take care of Hokkaido's precious natural environment.
Company Brochure
Name
Orson Company Limited
Representative
Director
Mr. Katsunori Yoshino
Address
Hokkaido Sapporo Atsubetsu-ku, Atsubetsu Higashi-4 jo 1chome 1-38
Telephone
011-898-2561
The date of Foundation
December 1960
Capital fund
50 million yen
Main clients

Sumitomo Corporation
SC foods
Nippon Access
Hokkaido Federation of Fisheries Cooperative Associations
Mitsubishi Corporation
Tsujino Company
Overseas  Vietnam, China, Mexico and Peru

Financial Banks

Hokuyo Bank
Bank of Tokyo Mitsubishi UFJ
Mizuho Bank
Hokkaido Bank

Line of Business
Salmon products, other seafood appetizers, manufacture and sale of daily products and snacks
(From fall of 2009) manufacture and sale of seafood and vegetable soup
Company History
1960
Foundation
1965
Tokyo Business office set up
1975
The first plant relocated to new-building
30 million yen increased capital
1977
40 million yen increased capital
1978
Laboratory office set up
1979
50 million yen increased capital
1984
The second plant set up
1987
The third plant set up
1988
Tokyo Business office upgraded to Tokyo Branch
1990
The fourth plant set up
1995
Eniwa plant set up
1996
Kansai Sub-branch office set up
1999

The name of company "Daiichi Shokuhin" changed to "Orson Company Limited"
Advertising on TV
Certified by the Japanese Ministry of Health, Labor and Welfare to export seafood to the U.S. using HACCP system

June 2003
Shin-Sapporo plant completion
Plants and Business Offices
Central Office
1-1-38,Atsubetsu-Higashi4jo,Atsubetsu-ku,
Sapporo,Hokkaido,JAPAN
Phone 81-11-898-2561
FAX 81-11-898-8110

Sapporo Business Office
1-1-38,Atsubetsu-Higashi4jo,Atsubetsu-ku,
Sapporo,Hokkaido,JAPAN
Phone 81-11-898-2561
FAX 81-11-898-8110
Kanto Branch
3-3,Nihonbashi-Odenmacho,Chuo-ku,Tokyo,JAPAN
Phone 81-3-3808-1261
FAX 81-3-3808-1262
Eniwa Factory
201-11,Toiso,Eniwa,Hokkaido,JAPAN
Phone 81-123-32-7188
FAX 81-123-32-7180
Shin-Sapporo Factory
1-2-10,Atsubetsu-Higashi4jo,Atsubetsu-ku,
Sapporo,Hokkaido,JAPAN
Phone 81-11-898-2561
FAX 81-11-898-8110
Hongo Pack Center
1-1,Hongodori-Minami,Shiroishi-ku,
Sapporo,Hokkaido,JAPAN
Phone 81-11-861-7411
FAX 81-11-861-3696